October 13, 2023
Metaculture Music Round-Up: The Path Starts To Break
The VR music community is changing. But this time, something's different.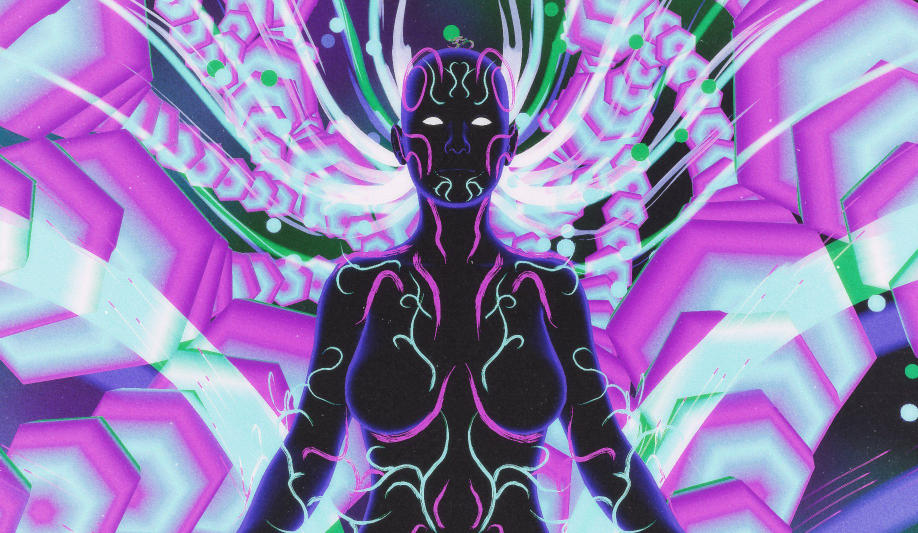 Our series of music round-ups covers sound you'll only find in virtual reality, produced by artists who socialize and work there. From acoustic to hardstyle techno, what's sonically relevant is being documented with us.
If you find an artist you like, click through the track information to give that person a follow (and buy something!). Your support is what keeps them making music--and we always love new sounds.
---
It's been six years since the VR music movement first began. It's gone through different trends of architecture and popular music styles, as well as its own unique challenges of community management and platform survival. It's grown to encompass crossover music acts, as well as experiments in digital human presence and scalability with marketing.
Yet, time rolls on. As the Quest 3 headset debuts a better mixed-reality passthrough mode and virtual clubs begin to experiment with it, we catch a glimpse of a future where music performances might not be held in VR as much anymore. The next generation of Social MMO might very well encompass AR, bringing with it new growth.
And on that note, there's something else.
What are you taking away from here, again?
We need to talk about the very obvious: the club scene in VR is no longer at its peak.
Around 2020, a lot of popular musicians (think Giraffage, Kreashawn, etc) were invited to try performing in virtual reality by VR clubs that were just setting up shop. This created a perception with users that if you worked hard enough and socialized with the right people, you could make an easier jump from a VR DJ to real-world celebrity. This brought on a hyper-focus of obtaining that celebrity, which in turn created instances of harassment and bullying between artists.
In the end, pre-existing acts benefitted the most from the VR music movement, as well as music vtubers who specialize in digital performance. VR didn't make any of these performers much money, but it did help them to pick up listeners and develop their brands a bit more. I can only speculate that their existing business acumen likely kept them away from too much drama to distract them from their work. That might explain why they did better than up-and-coming names that were still getting the hang of the ropes.
Many music acts which evolved in VR during COVID are also exploring their options outside of the platform again. A quick check with the good folks at VRChat Party Hub also yields a report that numbers are a bit low for parties on odd weekends, even after a summer slump recovery.
We've had a good time here, but it'll be refreshing to experience a rave scene which no longer carries the ghost of desired celebrity on its back. It can leave that behind and enjoy a good underground party for...you know, just being a party.
On the flipside, artists deserve to eat. It's understandable to feel conflicted about where to go now.
If you're at a crossroads about what to do with this information, stop and consider things for a moment. You're still logging in to party and hang out with friends and make art? Cool, then stay here. Don't enjoy it anymore? Got career goals leading you elsewhere? Safe travels, friend. Thanks for sharing your music in VR, and we hope you do great things wherever you go.
What branchoffs are happening from the VR music scene?
Some members of the rave scene are now focusing either on tour efforts, or are making great art in physical spaces. Here are a few initiatives you should check out:
I ultimately don't know what to call this era. The community is growing, splintering, and expanding into new spaces. It's bittersweet to see this much change happening.
From here, it's very likely that interests among VR users will begin to shift more towards film and visual art. I personally look forward to what else people accomplish outside of VR, or what they might even bring back with them if they eventually make a return.
What you should do now:
Print photos you've taken of parties, if you have them. Archive your videos. Save your stuff. Get a scrapbook to keep your prints, stickers, and art in. Don't just delete your photos. You'll regret that!
Make sure you stay in touch with people you truly want to stay in touch with.
Decide what your goals are from here. What will you do on the days where there's more people watching movies than there are dancing? Where will you go if more days become like this?
The Metaculture will keep doing music round-ups until there's hardly anyone producing here anymore. As long as you're active in a VR platform and you're making music, we're intent on following the story.
Anyway, on to new releases! (NOTE: All work is posted in order in which it was submitted, with the exception of top news items.)
---
One Life Left
VR theatre veteran Brendan A. Bradley is still holding the line at the SAG-AFTRA labor protests, but it isn't going so well for negotiations right now. As he continues to talk about the importance of fair labor laws for Hollywood's workers, he's also released a new song with his immersive musical, Non-Player Character:
One Life Left is the brand-new track from Non-Player Character that's now available on Spotify:
---
Ob4k3 Is Now On Spotify
Ob4k3 is the talented director behind the highly praised VR music venue Ghost Club. Now, he's bringing his discography to Spotify. If you haven't already, give him a follow and press play:
---
Windward's "We're Okay"
We're Okay is a new track out by producer Windward. It's really fresh and fun!
"This is my first release!" the artist writes to us. "I just love euphoric uplifting progressive house and trance, and hope some of my music can inspire the VR space to embrace those sounds even more."
---
CROAGUNK Is A Creative, Grimy Vibe
Sometimes, there are very neat themes that come up with music that VR producers publish. One example of this is croaking/throat sounds, per Abaddon's new track CROAGUNK.
Abaddon tells us: "I was trying to build square wave type song using Reason's Maelstrom, and I remembered people were making fun of Mongolian throat singing DJ sets[...] I got bored of toying with a square wave, and remembered Maelstrom actually has a 'throat' sounding graintable. I used that and it created what I felt like sounded like a ribbit."
I know of several experimental producers in VR who would love this, and I hope they're excited about this track like I am.
---
Girls Love Techno
Malísima is a producer with an amazing sound. Her new Girls Love Techno EP is something I hope I hear in dance halls more. Just imagining this on a map with the reverb going crazy... ahh, perfect.
Listen to the Girls Love Techno EP here:
---
Modular Sounds With Hexe
Modular Monday is a music series that meets at the beginning of the week to feature superimposed sounds. Modular sets are special in that they're created on the spot; artist Hexe.exe has been kind enough to link a recent performance for readers to enjoy.
"I make improvised live electronic music from layers of samples and loops," Hexe explains. "My style is experimental so my sets range from melodic and danceable like this one to noisy and layered fields of poetry and soundscape."
---
2PMode Presses Start
Virus-fae-queen Holly dot Net is teaming up with partner Atlas to form 2PMode. Their latest track is FASTERTHENTHOUGHT, a furious danceable glitch attack:
Holly tells us a new album is in the works, featuring "emotions of exploration and growth". We look forward to when that releases.
---
"These Days" Remix with K1N
We love a good alternate take on an existing track. Compare Mike Stud's These Days, to K1N's brand-new remix. K1N's been doing a lot lately to branch out from VR and work further on his making his dreams happen. Props to him!
---
WookieDubs, And Two Sides Of A Haunted Coin
Over the last few months, WookieDubs has worked on two tracks: Poltergeist and Isolation. "[Isolation] has deep emotional attachment for me as it crafted from place of raw emotion," he says of the latter track. If I had to sit back and relax to one, I'd play Isolation. I can't discount Poltergeist, though, for its sinister sound.
Also, feast your eyes on these visuals created for Isolation by the talented Goopwizard!
---
That's all for the music round-up! We'll keep the music submission form open until we publish another update in the winter. Take care of yourselves! A life of an artist is filled with ebb and flow. Nothing is ever truly the end.